Amber Valley SSP are responsible for the delivery of the National School Games programme, a government scheme for all schools with KS2 pupils upwards.
School Games is a pathway of events for students to take part in a huge variety of sports across a full academic year through competitions and events at a local, regional and even national level. These events cover a large spectrum of sports and festival formats giving schools an opportunity to engage as many students as possible in intra and inter-school competition. The School Games model is made up of four levels which schools can progress through: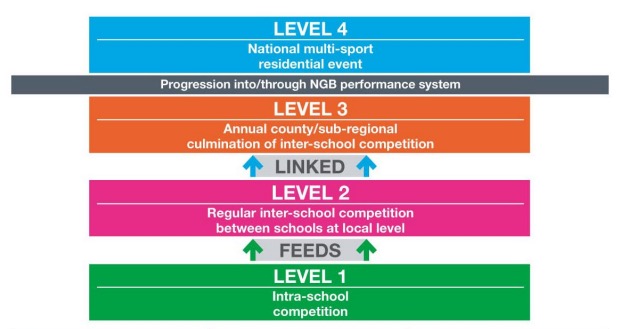 The sports on offer as part of the School Games programme include Athletics, Basketball, Cricket, Gymnastics, Girls Football, Boccia and many more with the year culminating in a summer multi-event festival with Derbyshire County finals in 10 different events for Primary, Secondary and SEN pupils
In 2018-19 a total of 16 different schools had the opportunity to attend a Derbyshire County final through their performances in the Level 2 competition in Amber Valley. The School Games values are a large focus of our competitions in Amber Valley with each event seeing a team awarded with a School Games Values award. This award recognises the values of Honesty, Respect, Teamwork, Determination, Self Belief and Passion.
Schools can also apply for a national accreditation through the School Games which can be accessed online at www.yourschoolgames.com
All Amber Valley schools are registered on this website so if you are unsure of your username and/or password please contact rshaw@avssp.co.uk